As a kid, Dr. Kelly Baltuska would ride his bike along Santa Fe Trail Drive in Lenexa, KS with his six siblings. Little did he know that he would end up opening a booming Chiropractic practice in one of those exact offices he rode past so frequently.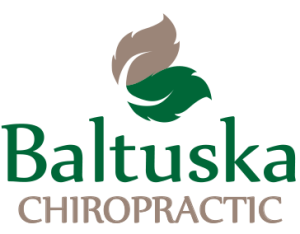 Dr. Baltuska opened Baltuska Chiropractic in 2015 with a focus on providing top-notch chiropractic services in a welcoming environment that puts patients first. The office has experienced tremendous growth since its opening, with a loyal base of patients and a 5-star rating on Google with 80 reviews (and counting). His quality of service and bond with his patients have led to incredible opportunities that Dr. Baltuska never imagined. He has traveled to Israel with a patient on a trip that he described as "life-changing" and recently sat cage-side at an MMA fight in Las Vegas where he was treating his patient to prepare for the biggest fight of his life.
It all started with a career aptitude test that Dr. Baltuska took early in his college career. "I scored high in Health Sciences," said Dr. Baltuska. It was then that he decided to pursue a career in the healthcare industry. Dr. Baltuska had grown up accompanying his parents to visits to their chiropractor and witnessed the benefits first-hand. "As a kid, I assumed everyone had a chiropractor," he recalled. Kelly decided to attend Cleveland Chiropractic College, where he graduated Magna Cum Laude with a Bachelor's of Science in Human Biology and a Doctor of Chiropractic degree.
"I was blown away during chiropractic college. The benefits of natural preventative treatment for the whole body were very clear to me. We currently have a broken model where people are waiting until they are sick, then medicating with drugs and surgery. People need a comprehensive wellness plan rather than just treating pain." - Dr. Kelly Baltuska, Owner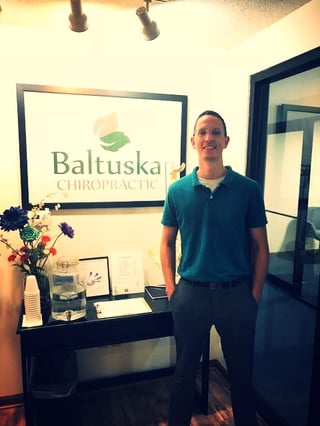 After graduating in 2012, Dr. Baltuska joined a Chiropractic office where he learned the ropes under the guidance of Dr. Gail Boyer, whom he considers a mentor to this day. He realized his dream in 2015 when he opened his own practice in the Green Prairie Center at 13830 Santa Fe Trail Drive in Lenexa.
"I am always searching for ways to help my patients. The goal is to stay out of the doctor's office and hospital. It drives me crazy if a patient has something bothering them. I have to find a solution." - Dr. Kelly Baltuska, Owner
Dr. Baltuska quickly identified that he wanted to build a practice that people would feel comfortable visiting, with easy online appointment scheduling, flexible hours, and same-day appointments available. The price for an adjustment is $30 with no insurance required. Not dealing with insurance companies allows the office to provide patients with a clear list of services and prices at affordable rates. Dr. Baltuska has made the process for new patients very easy, with no long-term commitment required. "You can come as much or as little as you would like," said Dr. Baltuska. He prefers to focus on providing the highest level of service to his patients and using the best equipment available while letting the results speak for themselves.
"We have the Maserati of adjusting tables... you come out of here feeling like melted butter." - Dr. Kelly Baltuska, Owner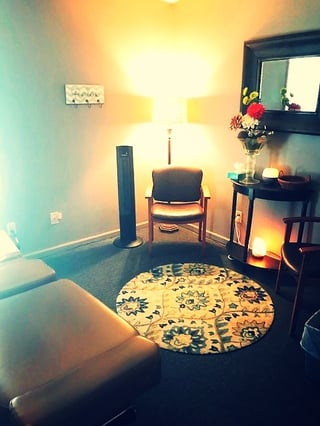 It is clear from talking to Dr. Baltuska that family and community are a big part of his life. He is a proud husband and father of four and has enjoyed sharing his passion with his family. Baltuska offers free adjustments to kids 10 and under, and has adjusted patients from 1 week old up to 90 years old.
"It is for the whole family. I have adjusted a baby that was 1 week old and could not turn her neck. She was instantly able to move to turn her head after the adjustment. It was an awesome moment that I'll remember for the rest of my life." - Dr. Kelly Baltuska, Owner
He has also enjoyed being an active member of the community through his partnership with Chad Austin of Priority Fitness. Dr. Baltuska and Austin partnered to create the Be Fit for Life Community, which offers free group workouts for all ages from 8:00 AM - 9:00 AM every Saturday morning.
If you are an athlete looking to improve performance, or if you are interested in improving and maintaining your overall health and wellness, I encourage you to visit Baltuska Chiropractic's website or join Dr. Baltuska at the Be Fit for Life Community workout. He would be happy to speak with you and design a plan that would work best for you.
Contact Information:
Phone: (913) 283-9803
Address: 13830 Santa Fe Trail Drive Suite 102, Lenexa, KS 66215
Website: www.baltuska.com
Twitter: @KellyBaltuskaDC
Facebook: @BaltuskaChiropractic
YouTube: https://www.youtube.com/channel/UC9Zj8MzpCXIrHmkV72giBrw
Ong & Company is a professional accounting, tax, and advisory services firm. Our team of CPAs specialize in helping small businesses and individuals minimize tax expenses and maximize after-tax income. Headquartered in Corporate Woods in Overland Park, Kansas, we serve clients across the United States.