On September 23rd, Patrick Frickleton's 14 months of research, planning, and hard work, will culminate in the Grand Opening of Camp Bow Wow Kansas City in Westport.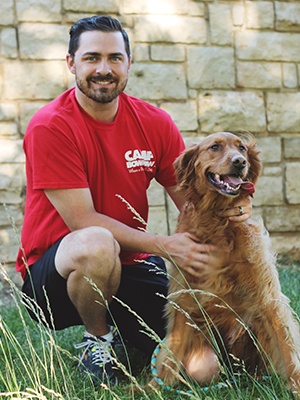 Roughly two years ago while enjoying a successful career as the Director of Sales and Marketing for a payment processing company, Patrick Frickleton decided it was time to follow his passion. Patrick knew he wanted to run his own business centered on something he cared deeply about. Patrick considered various opportunities and quickly landed on pet care. After many late nights of research and planning, and putting his blood, sweat, and tears into building a state-of-the-art pet care facility, his bold move will be celebrated with the Grand Opening of Camp Bow Wow Kansas City - Westport.
"You have to care about what you're doing to bring it to the next level"
- Patrick Frickleton, Owner
While he started his career miles away from the pet care industry, Patrick's time in the payment processing business undoubtedly helped him down this new path. In his previous work, Patrick was behind the scenes of a plethora of different businesses all over the country and beyond its borders. This experience provided Patrick with a great deal of insight into how businesses operate and succeed, which he has been able to channel into his new endeavor.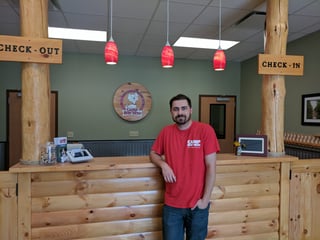 Patrick had been a customer of the Camp Bow Wow location in Olathe for 7 years and always left their facility with a good feeling about the care his dog was receiving. Camp Bow Wow provided much more than the average boarding facility and it did so with a "dog-first" mentality. To Patrick, this seemed like a perfect business opportunity. Over the next 14 months, Patrick assessed the market, planned carefully, and efficiently navigated the complexities of starting a new business. He toured many potential locations before finding the perfect spot at 104 Westport Road, a former auto-body shop. From there, Patrick has been involved in every detail of the build-out with a goal of providing a top-notch facility that is safe, secure, and offers clients the most up to date technology to enhance their overall experience. His Westport location now houses 58 cabins and is fully operational.
"The facility itself is a fortress. We strongly believe in making this a safe place for dogs to socialize. Safety and cleanliness are our mottos."
- Patrick Frickleton, Owner
Not only has Patrick had the full support of his family, but he was happy to find the Westport business community was very welcoming. He has also enjoyed building camaraderie with the other Camp Bow Wow franchise owners in the metro area by participating in community events as a group and exchanging ideas. After experiencing the normal anxiety that comes with a career change and opening a new business, Patrick has found gratification in the fact that he is now able to deliver an experience that pet owners really want.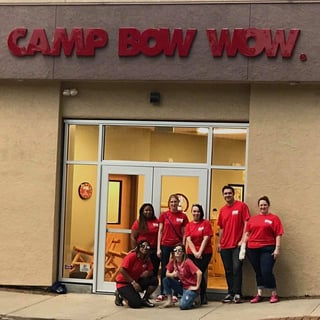 Patrick's team will be hosting a Grand Opening event on September 23rd. The event will be held at their Westport location from 10:00 AM to 4:00 PM and will include games, raffles, food trucks, tours of the facility, and of course, lots of dogs! The event is open to the public. Be sure to stop by and check out this impressive new business.
Contact Information:
Phone: (816) 673-1826
Address: 104 Westport Road, Kansas City, MO 64111
Email: westport@campbowwow.com
Website: www.campbowwow.com/kansas-city-westport
Facebook: https://www.facebook.com/CampBowWowKansasCityWestport/
Ong & Company is a professional accounting, tax, and advisory services firm. Our team of CPAs specialize in helping small businesses and individuals minimize tax expenses and maximize after-tax income. Headquartered in Corporate Woods in Overland Park, Kansas, we serve clients across the United States.