Local bridal boutique owner and designer, Emily Brown, of Emily Hart Bridal is giving back to those in need through her Hart for Humanity campaign while continuing to create memorable experiences for her customers.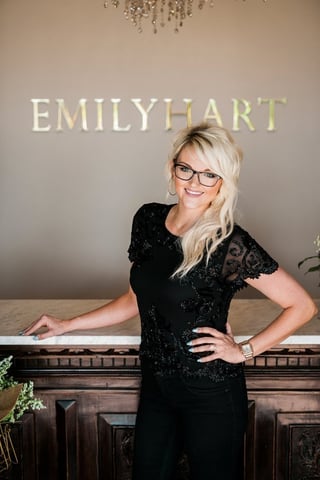 Just south of Kansas City stands a unique bridal boutique that has been locally owned and operated since 2007, Emily Hart Bridal. Boutique owner, Emily Brown, knows purchasing a wedding dress should be a touching and unforgettable experience. This is apparent when customers walk through the doors of Emily Hart Bridal, located at 12450 Blue Valley Parkway in Overland Park, Kansas.
Emily has always had a passion for design. In 2007, her passion turned into a business opportunity and she opened Emily Hart Bridal, a retail bridal boutique. Success came quickly for the shop as it has appeared on The Knot's Best of Weddings list for seven years in a row, and was recently selected for its Best of Weddings Hall of Fame. After gaining knowledge of the industry, Emily got the itch to design her own dresses. She decided to enter the wholesale market in 2009 and created her own line of dresses under Emmaline Bridal.
Emily Hart Bridal carries Emmaline dresses, along with many other designer options for its customers. This allows clients the unique experience of interacting directly with a dress designer while shopping for the perfect fit. Emily is able to gather feedback directly in her store and incorporate those preferences into her designs.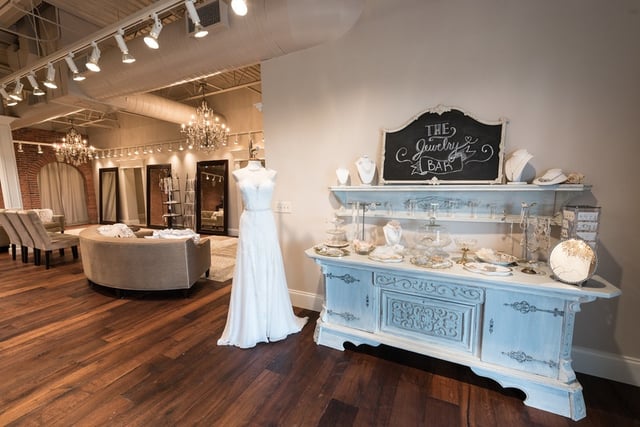 Giving back to those in need is also very important to Emily. After witnessing the negativity surrounding the presidential election of 2016, Emily felt called to give back in a positive way. While designing her newest collection, Emily created the Hart for Humanity campaign and established a partnership with Rescue and Restore, a shelter serving and saving street kids in the slum huts in Chennai, India. Emily Hart Bridal has committed to donating a portion of the revenues from the OHARA Bride Emmaline collection to the children's shelter. The shelter provides essentials for children that are malnourished and recently removed from human trafficking. As a business owner and proud mother of four children, Emily understands the importance of empowering children to grow into strong, confident, and successful adults. The shelter also provides education for young women to raise awareness about their rights and opportunities to become self-sufficient.
"It is my strong belief that where our passions and talents align, there we will find our purpose. And our purpose is always service of others. I am blessed to be able to serve my customers, staff, and now these children in India whose lives are just as precious and valuable as the lives of my very own children." - Emily Brown, Owner
In addition to donating a portion of dress sales, the #HartForHumanity campaign also donates profits from its boutique items sold through Emily Hart Bridal. Emily's team has created a line of motivational t-shirts with print such as, "no one has ever become poor by giving," to allow people to support the cause without buying a wedding dress. Each purchase helps provide children with the shelter, support, and protection they need. You can buy a shirt and/or donate to the Hart for Humanity cause by clicking the links below.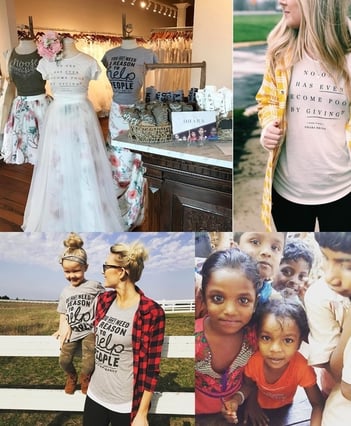 Click to Buy a Shirt | Click to Donate
The next time you or someone you know is looking for bridal attire, don't hesitate to reach out to Emily and her team. Nestled in Overland Park, Kansas, the team at Emily Hart Bridal would love to set up an appointment to create a memorable shopping experience for you and your group.
Contact Information:
12450 Blue Valley Parkway Overland Park, KS 66213
913-681-1500
http://www.emilyhartbridal.com/
http://www.emmalinebridal.com/
Facebook: https://www.facebook.com/ehbridal/
Pinterest: https://www.pinterest.com/emilyhartbridal/
Twitter: https://twitter.com/EmilyHartBridal
Instagram: https://www.instagram.com/emilyhartbridal/
Ong & Company is a professional accounting, tax, and advisory services firm. Our team of CPAs specialize in helping small businesses and individuals minimize tax expenses and maximize after-tax income. Headquartered in Corporate Woods in Overland Park, Kansas, we serve clients across the United States.