Life is good at the beach house for Overland Park based travel agency, Love to Travel, as they continue to rack up awards in the travel industry.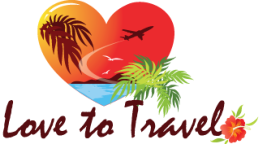 Kim and Dave Cook recently traveled back to the Caribbean island of Nevis to celebrate their anniversary at the same resort where they were married 25 years ago. Their unforgettable experience in Nevis led Kim to open her own travel agency, Love to Travel, which has been in business for 24 years and recently celebrated the 3 year anniversary of its storefront location known as the "Beach House" in Overland Park, Kansas. Kim and Dave have witnessed significant change in the industry over the past 24 years. Many travel agencies have downsized with the rise of do-it-yourself (DIY) booking websites, yet Love to Travel has done the opposite and continued to grow during that time.
What makes Love to Travel different? Kim believes that personal service, honesty, and experience are the key ingredients that have led to the company's success. Another factor is that Love to Travel has always catered to the leisure travel and destination wedding segments, rather than focusing on corporate travel. In that market, the primary competition is DIY travel websites rather than other travel agencies. Kim and Dave continually educate their clients on risks of DIY travel, especially for destination weddings and special occasions, and how Love to Travel can make their experience better without increasing travel costs. A good example of this was brought to life recently when Hurricane Matthew struck the Western Atlantic. When the hurricane hit, numerous resorts closed and flights were canceled by the thousands. All the while, the Love to Travel team was handling all of the arrangements for their 20+ newlywed couples and clients who were impacted by storm. While many travelers were stranded in airports, Love to Travel's clients were sitting pretty with their travel arrangements handled by the team and their vacations continuing as planned. As Dave puts it, "we do not charge a service fee. We are paid by the tour companies we use to handle the details. You will not pay more because you are using us, you just get better service."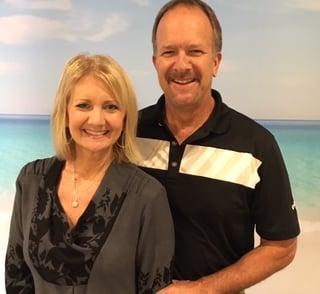 "The average online booker goes to more than 30 websites to plan a trip, spending hours sifting through information and reviews posted by strangers. The online companies don't care if you are choosing the right resort- they just want you to book. At Love to Travel, our entire team is dedicated to making sure you come home with priceless memories. When we book your trip, we are just getting started."
-Kim & Dave Cook, Owners
Once the travel planning and arrangements are in order, Love to Travel continues to support the clients throughout the process by providing recommendations for activities and restaurants, and generally making sure their clients have a happy and stress-free experience. The Love to Travel team travels to roughly 100 resorts per year, learning all they can to help ensure they can find perfect recommendations that will fit preferences of each individual client. This also helps establish relationships with the various resorts, resulting in advantageous pricing and VIP treatment for clients. Love to Travel recently won the 500 Club 2016 Platinum Agency title, which is given to agencies that know their destinations best. In addition, Love to Travel was recently a recently named a 2016 pick for The Knot Best of Weddings in the Travel Specialist category.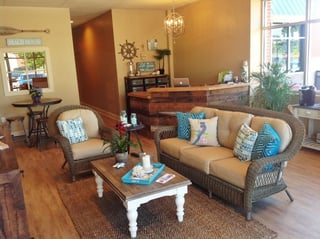 "When you stop by our office, you immediately feel like you are at the beach. Sit down, relax, have a cool drink, and let us plan your vacation"
-Kim Cook, Owner
A stand-out element of the Love to Travel process is the office, known as the Beach House. The reason behind the nickname is easily understood as soon as you walk in the front door. Everything in the office is tropically themed. The Beach House has allowed Love to Travel host events for clients to take the stress out of the process and make it enjoyable. Destination wedding planning has become a successful niche for the company after adding the "Love Destination Weddings" segment to the storefront location and starting their Honeymoon Happy Hour events. At Honeymoon Happy Hours, future newlyweds attend an informational event at the Beach House, where they learn more about potential locations, meet the team, and have a few laughs (and a few drinks). These happy hours embody the Love to Travel business model by taking the burden of travel planning off of the clients' shoulders and ensuring the entire process, from planning to experiencing the destination, is everything the client imagined and more.
If you have an upcoming special occasion, or if you would like to hear more about the company and its services, please visit the Love to Travel website or contact Kim or Dave Cook.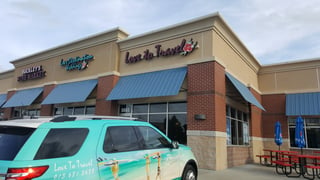 8665 W 135th Street
Overland Park, KS 66223
(913) 681-3688
Email: vacations@lovetotravel.com
Twitter: www.twitter.com/lovetotravelkc
Facebook: www.facebook.com/LoveToTravelKC/
Pinterest: www.pinterest.com/lovetotravelkc/
Instagram: www.instagram.com/lovetotravelkc/
Ong & Company is a professional accounting, tax, and advisory services firm. Our team of CPAs specialize in helping small businesses and individuals minimize tax expenses and maximize after-tax income. Headquartered in Corporate Woods in Overland Park, Kansas, we serve clients across the United States.